In Memory
William S. Belinski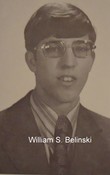 William S. Belinski
Published: November 18, 2010
Nov. 15, 2010
After eight years of living with cancer, William "Bill" Belinski, 55, of Kimberton passed away at Phoenixville Hospital on Monday.
He was the son of the late Edward and Irma Belinski, Hazleton.
William was a graduate of Hazleton High School, Class of 1973, and Gettysburg College, Class of 1977.
He began his career as an engineer with Bechtel Corp. and was involved in the construction of nuclear power plants, including Limerick Generating Station, Susquehanna Steam Electric Station and Hope Creek Nuclear Generating Station. His most recent employment was with Hewlett-Packard as a software engineer.
Bill had a keen interest in technology. He was an avid fan of the Pittsburgh Steelers and Penn State football teams. He also enjoyed hiking and other outdoor pursuits.
He is survived by his wife, Sandra Ballestero Belinski; and two children, Bill Belinski, State College; and Christie Belinski, Harrisonburg, Va. He is also survived by siblings, Steven Belinski, Reading; Edward Belinski, Las Vegas, Nev.; Judy Wolfe, Towanda; and Carol Noldy, Sayre. In addition, he is survived by numerous nieces and nephews.
Services will be private at the convenience of the family.
Arrangements are by Cremation Society of Pennsylvania, King of Prussia.
Memorial contributions may be made in his name to the Kidney Cancer Association, P.O. Box 3516, Oak Brook, IL 60522-3516, or at www.kidneycancer.org.