In Memory
Carmen B. Gugliemini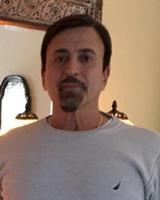 Carmen B. Gugliemini, 66, of Conyngham passed away Monday in Lehigh Valley Hospital-Hazleton.
Born in Hazleton, he was the son of the late Nicholas and Rita (Lore) Gugliemini.
He was a graduate of Harman High School, where he played basketball and won with his team the Harman basketball tournament team championship. He was an Air Force veteran. He retired from the Commonwealth of Pennsylvania White Haven Center after 30 years of service.
Surviving are his wife of 10 years, the former Laura Tweett; daughter, Nicole Gugliemini; sisters, Rose Mary Cherba and husband, Jack, Weatherly; Rita Bower and husband, Steve, South Williamsport; and Grace McClellan and husband, Robert, Florida; brother, Maurice Williams and wife, Patricia, Poughkeepsie, N.Y.; nieces, nephews, and friends; and beloved pets.
His funeral services will be held at the convenience of the family.
Joseph A. Moran Funeral Home, 229 W. 12th St., Hazleton, is in charge of the arrangements.
Condolence can be sent through www.moranfuneralhome.com
© Standard-Speaker