In Memory
Daniel M. Higgins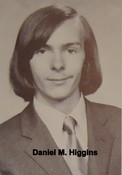 Daniel M. Higgins, 69, of Hazleton, passed away in his home Wednesday evening.
Daniel was the son of Lawrence and Bernadette Higgins. While he worked most of his life in the electronics field, his true passion was always music. Before moving to the West Coast 20 years ago, Daniel performed with many local bands and was well known amongst the local live music scene.
Daniel is survived by his children, Daniel Higgins and Dawn Otte; and siblings, Elizabeth Fay, Mary Theresa Astrino and Joseph Higgins.
A memorial service in his honor will be held from 6 to 8 p.m. Wednesday at Towers Bar and Restaurant, Fern Glen. It will be a casual affair and anyone who knew Daniel is welcome to stop by to raise a glass in his honor and to share their favorite memories of him.
Published by Standard-Speaker from Sep. 14 to Sep. 15, 2023.