In Memory
Linda Renae Jacobs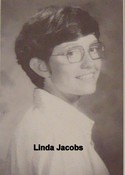 Linda Renae Jacobs, 56, of Hampton, Va., died Friday, June 29.
Born in Coaldale, she was a daughter of Bernard and Mildred (Orach) Jacobs of Hazleton.
She was a member of Glori Dei Lutheran Church, Hampton, Va.
She was an Air Force veteran, having attained the rank of captain.
She was employed as a teacher in Hampton, Va.
She is survived, in addition to her parents are a sister, Lee Ann, wife of Gregory Taylor of Hershey; and two nieces.