In Memory
Joseph A. Kavitski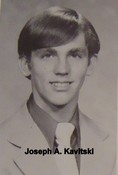 Joseph A. Kavitski, 44, of rear 528 Putnam St, West Hazleton, died Thursday morning May 18, 2000 at home.
Born in Hazleton, Aug. 5, 1955, he was the son of Doris and Joseph Kavitski, Scotch Hill Estates, Lattimer. He was a 1973 graduate of Hazleton High School. He was a member of Faith United Church of Christ, and was a volunteer coach for Silver Streak Wrestling. Prior to retiring, Mr. Kavitski was last employed at the White Haven Center. He was an avid sportsman.
Surviving in addition to his parents, are his wife of 18 years, the former Wendy Barnes; a son and a daughter, Joseph Jr. and Dana, both at home; a brother, Thomas Kavitski, Media; and a sister, Susanne Kavitski, Blakeslee. Also surviving are nieces and nephews.
A memorial service will be held May 27, 2000 at 2 p.m. at the Faith United Church of Christ, 232 Allen St., West Hazleton. The Rev. Jane Hess will officiate.
From : Hazleton Standard Speaker Date : Friday, May 19, 2000