In Memory
Kathryn A. Kenny (Kelsey)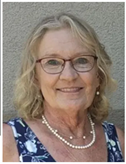 Kathryn Kenny Kelsey
April 10, 1955 - August 23, 2023
Kathy Kelsey peacefully passed away on August 23, 2023 in League City, TX after a brief battle with cancer. She was born on April 10, 1955 and raised in Hazleton, PA. Graduating from Hazleton High School in 1973 and Penn State University in 1977, she led successful careers in both pharmaceutical and electronics sales until her retirement in 2008. She accomplished this while never missing any of her children's events, always providing home cooked meals, and cheering on her Nittany Lions during football season.
Kathy is survived by her two children, Ryan Scott Kelsey and Katelyn Marie DuBois, along with many lifelong friends. Her siblings Peggy Piccola, Patsy Fickner, David Kenny, and Tim Kenny also survive her. Her parents, Hilda Marie Kenny and Jack Kenny, preceded her in death along with her brothers, Jackie and Billy. During this trying time, she found joy in the company of her friends and family who surrounded her with love and stories. Their calls remained a highlight of her days and kept her laughing and hopeful until the end.
Our entire family would like to express our gratitude to the staff at Memorial Hermann Hospital as well as Orchard Park at Victory Lakes and Casa Hospice for their compassionate care.
A private memorial will be held for close friends and family. In lieu of flowers, please consider donating to the American Cancer Society in her honor.
Pictures & Share a Memory:
https://www.bayareafuneraldirector.com/obituaries/Kathryn-Kenny-Kelsey?obId=28943088
https://www.bayareafuneraldirector.com/obituaries/Kathryn-Kenny-Kelsey?obId=28943088