In Memory
Albert T. Kringer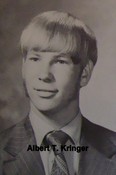 Albert T. Kringer
August 6, 2019
OBIT / PUBLISHED: AUGUST 8, 2019
Al T. Kringer, 63, of Hazleton, passed away Tuesday in the Hospice Unit of the Geisinger South Wilkes-Barre Medical Center.
Born in Hazleton, he was the son of the late Aloysius and Theresa Kringer. Al was a 1973 graduate of Hazleton High School and then graduated from Penn State with a degree in mechanical engineering with a minor in architectural design.
He had many interests and a diverse background with most of his career spent in the engineering field. Al worked with many local contractors in house design, drafting and planning. Al worked as a real estate agent and car sales consultant and was employed by BCI.
He was a member of the Knights of Columbus, the Greek Catholic Union Greater Hazleton Regional Lodge, where he served as its auditor, and was a life long member of the Ss. Cyril and Methodius Parish.
Preceding him in death, in addition to his parents, was his sister, Mary Ann Sorosky.
Surviving are his wife of 32 years, Judy (Palumbo) Kringer; sisters, Celeste Jaffe and husband, Gerald M., New Jersey; Dolores Lockhart, Hazleton; Francine Katzenson, Calif., several nieces and a nephew.
A Mass of Christian Burial will be held at 10 a.m. on Friday in Ss. Cyril and Methodius Parish. Interment will follow in Calvary Cemetery, Drums.
Friends may call from 9 to 10 a.m. on Friday in the church.
Fierro Funeral Service Inc., Hazleton, is handling the arrangements.
In lieu of flowers, memorial donations to Ss. Cyril and Methodius Parish would be appreciated.
© Standard Speaker