In Memory
Joseph P. Lombardo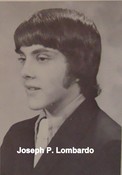 Joseph P. Lombardo
Published: June 23, 2011
June 19, 2011
Joseph P. Lombardo, 56, of Hazleton passed away Sunday at his home.
Born in Hazleton, he was the son of the late Joseph G. and Sadie (Chickerino) Lombardo and was a member of Ss. Cyril and Methodius Parish at St. Joseph's Church, Hazleton.
He was a graduate of Hazleton High School, Class of 1973, and King's College.
He was employed at the Drums Post Office for 20 years.
Joe had a gentle, kind soul who nurtured his family and friends in a generous, quiet way. He cooked every week for countless friends and family.
Preceding him in death, in addition to his parents, was his brother, Carmen Lombardo.
Surviving are his son, Joseph Bryan Lombardo, stationed in Nevada in the Navy; sister, Anne Marie Balliet, Anderson, S.C.; nieces, Sherri O'Donnell, Hazleton; and Lori Pilcher, Chattanooga, Tenn.; uncle, Nick Chickerino; and several great-nieces, nephews and cousins.
His funeral will be held on Saturday at 9:30 a.m. from Joseph A. Moran Funeral Home Inc., 229 W. 12th St., Hazleton.
A Mass of Christian Burial will be celebrated at 10 a.m. in Ss. Cyril and Methodius Parish at St. Joseph's Church.
Burial will be in Our Lady of Grace Cemetery.
Friends may call the funeral home on Friday from 6 to 8 p.m.
Condolences may be sent through www.moranfuneral home.com.