In Memory
David J. Marinock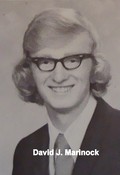 MARINOCK, David J. Sr., 1955-2007
From Hazleton PA Standard-Speaker, Mon. Mar. 26, 2007

March 25, 2007
David J. Marinock Sr., 51, of Parkview Lane, Drums, passed away Sunday morning at Geisinger Medical Center, Danville, following a short ill­ness.
Born in Hazleton on Aug.19, 1955, he was the son of Margaret (Moran) Marinock, Drums, and the late Stephen J. Marinock Sr.
He spent the past 29 years in Drums after moving from Hazleton.
He had been employed as a welder for All-Steel Corp., Val­mont Industrial Park, for over 30 years prior to its closure.
After All-Steel closed, David returned to school and had recently received his certifica­tion in air conditioning and refrigeration.
He was a member of Good Shepherd Roman Catholic Church, Drums; Owls Rod & Gun Club, Hazleton; Ten Bears Club and Highland Lake Manor Club. He was an avid hunter and fisherman, a base­ball fan, a gardener and enjoyed the outdoors.
Preceding him in death, in addition to his father, was his wife, the former Cynthia Piskorick, who passed away on Aug. 11, 2000.
Surviving, in addition to his mother, are his son, whom he loved more than anything, David J. Jr., cur­rently in his last semester at Lock Haven University and who will attend Palmer Col­lege of Chiropractic, Florida; brothers and sisters, Mary Lesh and her husband, Michael, Drums; Mark Marinock Sr. and his wife, Maryann, Drums; Alice Fox and her husband, Tim, Hazleton; Diana DaGrosa and her husband, Neil, Drifton; and Stephen J. Marinock Jr. and his wife, Jean, Hazleton; and several nieces and nephews.
David had a great sense of humor and a knack for mak­ing people smile and will be sadly missed by many.
His funeral will be held Wednesday at 9:30 a.m. from Harman Funeral Homes & Crematory Inc. (East), 669 W. Butler Drive, Drums. A Mass of Christian Burial will be cel­ebrated at 10 a.m. in Good Shepherd R.C. Church. Burial will follow in Calvary Cemetery, Drums. Friends may call Tuesday from 6 to 9 p.m. at the funeral home. A Christian wake serv­ice will be held Tuesday.