In Memory
Arlene F. Mathuse (Sheeler)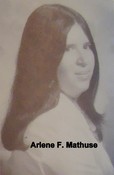 Arlene F. Sheeler, 67, of Hazle Twp., passed away Aug. 18 at her residence.
She was born in Cleveland, Ohio, daughter of the late Adam Joseph and Josephine (Acri) Mathuse.
She was preceded in death by her husband, William Sheeler; and her daughter, Theresa Dawn Sheeler-Keeler, in 2016.
She is survived by her brother and sisters, Roberta Mathuse, Hazleton; Patricia Acker, Wilkes-Barre; Robert Mathuse, Hazleton; and several nieces and nephews.
Arrangements are under the direction of Frank J. Bonin Funeral Home, Inc., Hazleton, and are being held at the convenience of the family.
Published by Standard-Speaker on Aug. 27, 2022.