In Memory
Jean G. McFadden (Kollesar)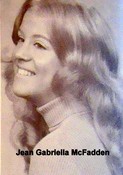 KOLLESAR, Jean McFadden, 1955-2008
From Hazleton PA Standard-Speaker, Thurs. Nov. 6, 2008

Nov. 5, 2008
Jean McFadden Kollesar, 53, of Hazle Township died Wednesday morning at Hazle­ton General Hospital. Born in Hazleton on Feb. 25, 1955, she was the daughter of the former Miriam Snyder and her husband, Jean's stepfather, John DeCusatis of Hazleton, and the late Thomas McFad­den. Jean was a member of the former Holy Trinity German Catholic Church, Hazleton.
She graduated from Hazleton High School in 1973 and went on to study business at York College. After college, she lived in New Jersey for some time before returning to Hazleton.
Jean began her employment as a manager for Susie's Casu­als in New Jersey. Later, for most of her life, she was a pri­vate- duty home care giver for stroke patients. Most recently, she was employed by Value City Department Store, Hazle­ton. Surviving, in addition to her mother and stepfather, are her husband of 22 years, John Kollesar; a daughter, Jillian Leigh Kollesar, at home; sis­ters, Kim Eroh, Bloomsburg; and Lorraine Bott and her hus­band, Greg, Hazleton; a sister­in- law, Joanne Enama and her husband, Ray, Mountain Top; nieces, Caitlin and Rachael; and a nephew, Jonathan Enama and his wife, Cindy, and their daughter, Peyton. No formal service is planned. Friends and family are invit­ed to a visitation period on Sat­urday from 2 to 4 p.m. at Krapf & Hughes Funeral Home Inc., Hazle Chapel, 426 W. Broad St., Hazleton.