In Memory
David D. Mundie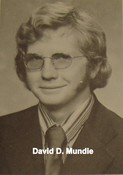 DAVID MUNDIE OBITUARY
David D. Mundie, 67, of Drums passed away Monday in Lehigh Valley Hospital-Hazleton.
Born in Hazleton, Oct. 1, 1955, he was a son of the late James and Priscilla (Smith) Mundie.
David graduated from Hazleton High School in 1973. He enlisted in the U.S. Air Force after graduation. He then graduated from Penn State University and worked at the White Haven Center for many years. He also worked at the VA Medical Center, Wilkes-Barre, in the operating room supply department before his retirement in 2018.
He was a guy who loved to go antiquing. He searched for unique antique furniture and through his skills, was able to refinish the pieces to bring them back to their original luster. Most of all, he was a treasured family man. He loved being a grandfather and spending as much time with his grandchildren as possible. Especially on the family vacations that they all enjoyed each year. He was a one-of-a-kind soul who will truly be missed.
Preceding him in death, in addition to his parents, were his brothers, Gene and James Mundie; and sisters, June Moylan; and Carole Horlacher.
Surviving is son, Ian Mundie and his wife, Terri, Florida; daughter, Krista Eveland and her husband, James, Drums; grandchildren, Niko, Leah, Liam and Elise; sisters, Priscilla Mundie; Sara Russo; Mary Ellen Sims and her husband, Larry; Judy Mundie; and Clare Rossi; brother, the Rev. Melvin Mundie and his wife, Barbara; and several nieces and nephews.
A service will be held at 11 a.m. Tuesday from Krapf & Hughes Funeral Home and Crematory, 530 W. Butler Drive, Drums. The Rev. Melvin Mundie will be presiding.
Friends and family may call from 10 a.m. until the time of service Tuesday at the funeral home.
Burial will take place at St. Johns Lutheran and United Church of Christ cemetery in St. Johns immediately following the service.
Condolence messages may be entered in the family's memorial guestbook on the funeral home website at www.khfuneralhomes.com.
Published by Standard-Speaker from Apr. 4 to Apr. 8, 2023.