In Memory
Cosimo Piccione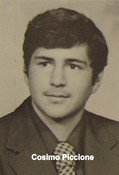 Cosimo A. Piccione
May 12, 2019
OBIT / PUBLISHED: MAY 15, 2019
Cosimo A. Piccione, 64, of Hazleton passed away Sunday at his home.
Born in Hazleton on Feb. 15, 1955, he was the son of Marion Bachart Piccione and the late Cosimo Piccione.
He is survived by his wife, the former Patty Treichler; his mother, Marion Piccione; children, Kelly Gatts, West Palm Beach, Fla.; Michael Piccione and his fiancée, Ashley Kelly, Beaver Meadows; Christine Cragen and her husband, Cord, Beaver Meadows; and Brandi Yackiel, Kingston; numerous grandchildren; brothers, Michael Piccione and his wife, Barbara, New Coxeville; and Anthony Piccione and his wife, Betty, Freeland; sisters, Mary Lucia Janosky and her husband, Fred, Wernersville; and Alvita Kulsa and her husband, Jeffrey, Hazle Twp.; and many nieces and nephews.
Cosimo was a graduate of Hazleton High School, Class of 1973.
He was a journeyman molder at Hazleton Casting Co., the former Barrett Haentjens & Co., where he was employed for 46 years.
He attended St. Peter's Episcopal Church, Hazleton.
Especially when it came to mechanical skills, "Cosie" was always one to lend a hand to those who needed help.
A Mass of Christian Burial will be held Friday at 10 a.m. in Most Precious Blood Church, Hazleton.
Interment will be in Most Precious Blood Cemetery.
Relatives and friends may call from 8:45 a.m. until the time of Mass at the church.
Fierro Funeral Service Inc., Hazleton, is in charge of arrangements.
©2019 The Standard Speaker