In Memory
Thomas J. Pogar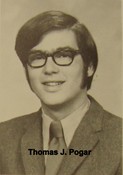 Thomas J. Pogar, 66, of Hazleton passed away Wednesday at his residence.
He was born in Hazleton, son of the late Peter and Anna (Sterenchock) Pogar. He was a member of St. Michaels Ukrainian Catholic Church, Hazleton.
He last worked at Hershey Foods and was a member of the Heights Rod and Gun Club.
He was preceded in death by his brother, David.
He is survived by his sister, Mary K. Pogar, Towson, Md.; a sister-in-law, Tammy Pogar; nephew, Matthew Pogar; and niece, Sarah Pogar.
Graveside services will be held at 11 a.m. Thursday in Calvary Cemetery with the Rev. Roman Oliinyk officiating.
Arrangements are under the direction of Frank J. Bonin Funeral Home Inc.
Published by Standard-Speaker from June 5 to June 6, 2022.
https://www.legacy.com/us/obituaries/standardspeaker/name/thomas-pogar-obituary?id=35054876&fbclid=IwAR0sBzNrk2Ku7feRrGtNjAlJgF8DLh7eRjeFfdsjWPbs-D_ZC