In Memory
Jean Pritrulsky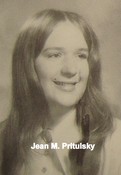 May 5, 2013
Jean M. (Pritrulsky) Ponchery, 58, of 503 S. Kennedy Drive, McAdoo, passed away suddenly Sunday morning in her residence.
Born in Hazleton, she was the daughter of Clara Ann (Musial) Pritrulsky of McAdoo and the late Stephen Pritrulsky Jr. She was a member of Church of All Saints, McAdoo.
Surviving, in addition to her mother, are her son, Bradlee Ponchery, at home; sisters, June Teprovich and Julie Fritz, both of McAdoo; and Carol Wolski, Stevensville, Md.; brother, Stephen Pritrulsky, Zion Grove; and several nieces and nephews.
Friends and relatives are invited to attend the Mass of Christian Burial, to be celebrated Wednesday at 11 a.m. in Church of All Saints, McAdoo. The Rev. Monsignor William Baker will be the celebrant.
Interment will follow in St. Patrick's Roman Catholic Cemetery, McAdoo. A calling hour will be held Wednesday from 10 to 11 a.m. in Church of All Saints, McAdoo. Damiano Funeral Home Inc., McAdoo, is assisting the family with arrangements.