In Memory
Robert Walker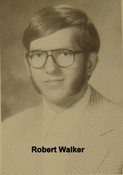 Robert "Bob" M. Walker, of Conyngham, entered into eternal rest Friday, October 14, 2022, surrounded by his loving family.
He was preceded in death, by his parents Rocco "Rex" and Wanda (Bankowski) Walker, a brother Rex and his wife Margaret Walker, a sister Joyce Walkins and her daughter Barbara Walkins.
Bob was a graduate of Hazleton High School and Penn State University. Upon graduating with a degree in business administration, Bob also earned his Real Estate license. After graduating, Bob married Jean, his high school sweetheart. In true entrepreneurial spirit, he started a life-long career in Real Estate.
Bob was known as the "real estate guru" beginning as a real estate salesperson. He went on to become a broker and established his own company Robert M. Walker Real Estate. He then became a general Real Estate appraiser and Real Estate instructor. Later, Bob went on to establish his own Real Estate school, Vintage Real Estate Academy. With over 40 years of dedicated service to the real estate community, Bob most enjoyed providing real estate instruction and helping others achieve their real estate goals.
Bob taught and mentored thousands of students within the states of Pennsylvania, New York, and New Jersey. Throughout his career, he belonged to many real estate boards and also served as the president of the Hazleton realtor board.
Bob had a passion for life, work, and his family. When he wasn't teaching a class or appraising a house, Bob loved spending time with his wife of 44 years, Jean, and their three children. He was a man of faith and a member of Most Precious Blood Church, Hazleton. He will be greatly missed.
Survivors include his wife Jean Gentilesco Walker, son Rob Walker, son David Walker, Ph.D. and his wife Elisabeth Walker, Ph.D., daughter Carolyn Walker, M.Ed., sister Barbara Walker, brother-in-law Bill Gentilesco, brother and sister-in-law Carl and Terese Gentilesco, and several nieces and nephews.
A Mass of Christian Burial will be held Wednesday at 10 am in Most Precious Blood Church, Hazleton. Friends and family are welcome to visit at the church from 9 am until the time of the Mass.
In lieu of flowers, the family suggests donations be made in Bob's memory to the Hazleton Public Library, Hazleton or Valley Branches, or Most Precious Blood Church Fund, Hazleton.
Harman Funeral Homes & Crematory Inc. (East) 669 W. Butler Drive, Drums is assisting the family with the arrangements. Online condolences can be entered and more information is available at www.harmanfuneral.com.