What did I miss?
Although computers & technology were supposed to simplify and make our lives easier, have they? If you often run out of time to check out our site, then come to this page when you do have some time to catch up. Posted below are some of the past months' Home Page features you might have missed.
April 2018 - Home Page Dedicated in Memory of George Deeb
October 2017 - Home Page Dedicated in Memory of Giles Phillips
September 2017 - Home Page Dedicated in Memory of Joe Dougherty and Jerry Orbach
April 2017 - Home Page Dedicated In Memory of John G. Yakubik
February 2017 - Home Page Dedicated In Memory of Deborah A. Swindro Yakubik
December 2016 - Home Page Dedicated In Memory of Raymond J.Papaj, Sr.
September 2016 - Home Page Dedicated In Memory of Donna Buzanowicz Andrews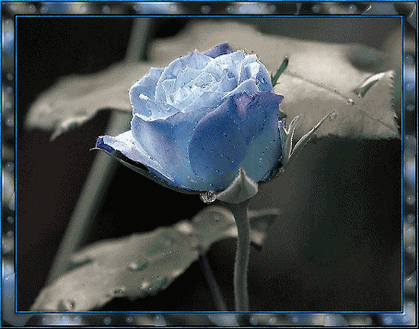 Lookin' good! Facade Projects Completed

The Alliance has been working on several façade projects. Three are now complete. The 118 W. Broad St. building, owned by Junior Reyes, resulted in new windows and painting of the historic metal cornice. Mr. Reyes is currently making renovations to the ground floor retail spaces.

The 21 E. Broad St. building, owned by Ned and Florence McNelis, now has a fresh coat of paint, as well as the new decorative banners along the upper story that double as signage for the building tenants. This property is adjacent to the Iglesia Cristiana Monte de Sion building, which underwent a façade restoration in 2015. The Alliance also consulted on the renovation of the Salvation Army Thrift Store (the former Rosen's furniture store), which underwent masonry restoration last year. Three other façade projects are in the design phase. Renovations to 21 N. Laurel Street will be bid shortly.

The objective of the façade grant program is to provide assistance for the maintenance, rehabilitation, and upgrading of existing commercial properties within downtown Hazleton. The program is funded in part by the First Federal Charitable Foundation and the PA Department of Community and Economic Development. For more information on the Façade Grant program, visit http://www.downtownhazleton.org/facades.html.
Visit www.downtownhazleton.org or call 570-455-1509.
Visit https://www.facebook.com/events/152624061807798/
---
November 2015 - Home Page Dedicated In Memory of Diane L. (Verano) Levandowski.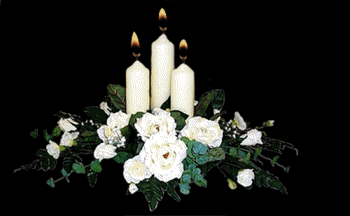 October 2015 - Home Page Dedicated In Memory of Joyce A. (Boehmler) Gullet.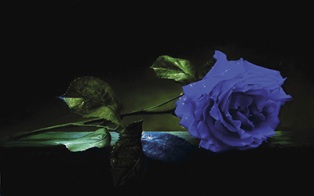 ---
Class of '73 - In 2015 we turn 60!
August 2015 - Our "60th Birthday Bash" on August 8th @ The Mt. Laurel Golf Course was so much fun. We started the weekend with "Hazleton's First Friday" with Happy Hour at the Pines Eatery - with window seats for the Classic Car Show, followed by the Bowling Bash at the Bowl Arena.
Saturday the "Peace Love & Chalk Art" festival downtown was an awesome event showcasing Hazleton's young talent. Thank you to our classmate, Carmine Maddon, her family and all the organizations involved in this unique and "very groovy happening" – hope it becomes an annual activity.
About 50 people attended our Class 60th birthday party at the Mt. Laurel Golf Course. Everyone appreciated the time to talk, reminisce and catch up with one another. Pictures and slide presentations will follow soon. Special thanks to Merri Damico for donating awesome gift baskets for the raffle. Thank you again to the Reunion Committee for putting it all together: Bob Carberry, Karen Martinkovic, Jane Medvecky, Nancy Drost Miller (Co-Chair), Joe Mope, John Moscon (Co-Chair).
---
June 2015 - Home Page Dedicated In Memory of Donald A. Gregory (June 8, 2015), added to In Memory.
Thanks to Jane Medvecky, the Obituary of Joseph Litchko (2010) was added to our In Memory Page.
---
May 2015 - We're having a class birthday party to celebrate all of us turning the big " 6 0 " at some point this year! Lots of things are happening in Hazleton that weekend, so we planning several informal "Meet-Ups" in addition to our party. We hope you can join us for fun, food & fellowship!
Our "Main Event" will be a casual outdoor barbeque & dance on Saturday, 8/8/15, from 4 PM - 10 PM at Mt. Laurel Golf Course, East Side White Haven, PA (Hickory Run). The cost is $20 per person due by July 1st.** Be sure to register on the "60TH - SIGN UP HERE!" page.
April 2015 - Plans are underway for our "60th Birthday Bash" as a result of a huge "YES" response to our Survey. Stay tuned for more information as well as easy online registration coming in May.
March 2015 -
Hazleton Area School District Music department commissioned Rob Walker to compose "Angela Park Celebration," a piece that, accompanied by a slide show, was the grand finale of the "Music in Our Schools Month" concert at Hazleton Area High School Tuesday night, 3/17/15. To see the video click here: Angela Park ~Courtesy of Sam-Son Productions & FYI News 13 SSPTV - HAHS Tribute to Angela Park, 3/19/15
"Decades after demise, Angela Park gets musical tribute" by Mark Guydish, March 15, 2015 © 2014 Civitas Media, All rights reserved....TO READ THE ENTIRE ARTICLE CLICK HERE.
February 2015 -
Happy Presidents' Day or Washington's Birthday?
What happened to our traditional February holidays? And just what the heck are we commemorating on "Presidents' Day"? (...and who says you can't teach an old dog new tricks?) Learn/read more interesting facts at Snopes.com and Fact Monster.com



Can you believe we will all be turning
60 years old in 2015?
If you'd like to have a casual birthday get-together to celebrate this "really big" birthday. then please complete a really quick survey for our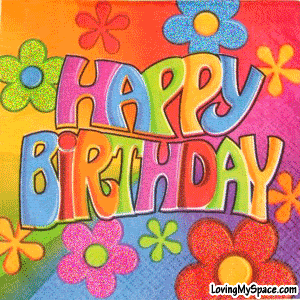 Remember when we thought 60 years old was ancient & couldn't imagine we could EVER get THAT old? But hey, on the up side, we still look maaavelous! ~
Published on May 1, 2012 Parody: Penelope Dyan sings "Too Marvelous For Words," a popular song written in 1937.



There were so many great "Valentine's Day" videos from "our day." In case you missed them, wanted to come back to see one you didn't get a chance to, I will keep them here until the end of February. Here they are:

Happy Valentine's Day!

Vintage Video & TV from our "era" ~ We grew up with "50 Shades of Grey" all over the place (here are just a few!) - Who knew?

View a few per day to really get in the mood by next Saturday!

A Valentine Message

By: ALTEREDSLATES

Hoping Love finds it's way to you...

"...and now a word from our sponsors" (Yep, even commercials!)
Published on Nov 15, 2013 Music video by The Beatles performing "Words Of Love" (C) 2013 Apple Corps Ltd.
Apr 24, 2013 • Music: "Paris Without His Kiss" by Suzahn
The Beatles - Please Please Me; by Cristhian Alfredo Pinedo Gamarra
Amo a Pepe Le Pew By DianaGnr
"MY HEART, MY SOUL, MY WORLD" w/ BETTY BOOP (Scott Douglas MacLachlan)
So, I know she was a little bit "before our time," but was Betty Boop really this sexy?
KISS ME ~ by Betty Boop By Dreamsville Music: "Kiss Me" by Sixpence None The Richer
The Beatles - Can't Buy Me Love (Live); By u2sbs3
Pepe and Penelope - Beauty and The Beast Le Meow, Le Purr!
TOM JONES (SEX BOMB VIDEO OFFICIAL); By casa diseño Published on Jan 9, 2013 Music:"Sex Bomb" by Tom Jones, Mousse T. (Google Play • AmazonMP3 • iTunes)
[OK, calm down now.....]
"I'll Be True To You" (Remastered) ♥ DAVY JONES ♥ The Monkees Beatles?Girl



November - January 2015 - Holiday graphics & videos
October, 2014 - Fellow Classmates Carmine Maddon Parlatore and Linda Forliano Sentiwany hosted events during Hazleton's "Power Second Friday's" October 10, 2014 at The Shop 2. For more information on Second Friday's, see our "Hazleton" page.
September, 2014 - Coach Jane Dunn, Coach Dave Shafer and fellow classmate Tom Donahue have been named to the Hazleton Sports Hall of Fame Class of 2014. They were inducted at a banquet at Genetti's on September 21st.
To see the slide show photos in "full screen" (larger view): click here.
June - August, 2014 - Patriotic Holiday Graphics & Greetings; HHS Class of 72 +/- 60th Birthday Bash (pictures can be found on FB Group Page and www.QBtheDJ.com) and Summer Songs Playlists - Where did the summer go???
April, 2014 - THE LATEST HOMETOWN NEWS:
I'll have a pulled pork barbeque with extra relish, fries,
a vanilla coke and a slice of blueberry crumb pie ..... The Pines is back!!!
Click here to "read all about it"!
Happy Everything!
---
January 2014 - Home Page Dedicated in Memory of Mary Ann Kraska (Jan. 10, 2014)
---
December 2013 - Happy Holidays! (graphics and videos)
Remembering those we lost in 2013: Mark Cann, John Gallucci, Jean Pritrulski and Ricky Rybarczyk:
...school in background remind you of "the Castle"?
---
November 2013 - JFK Tribute with Standard Speaker pictures from November 23, 1963...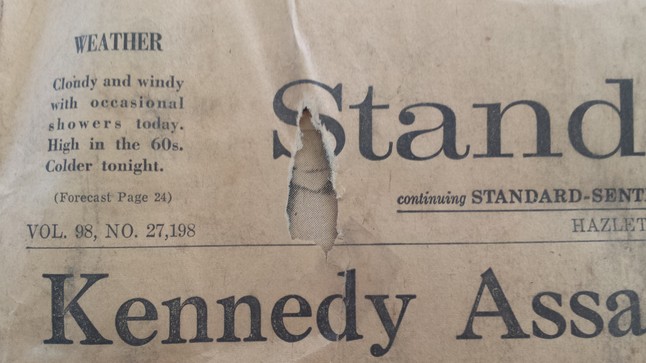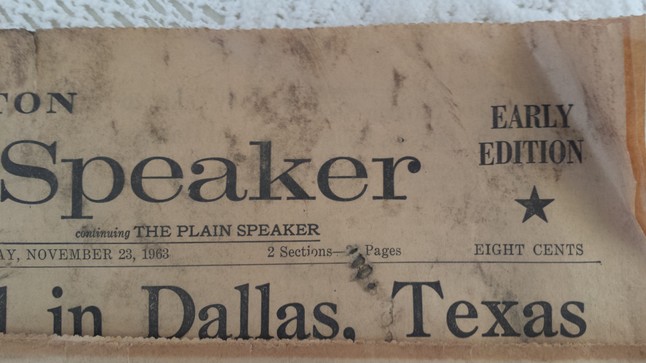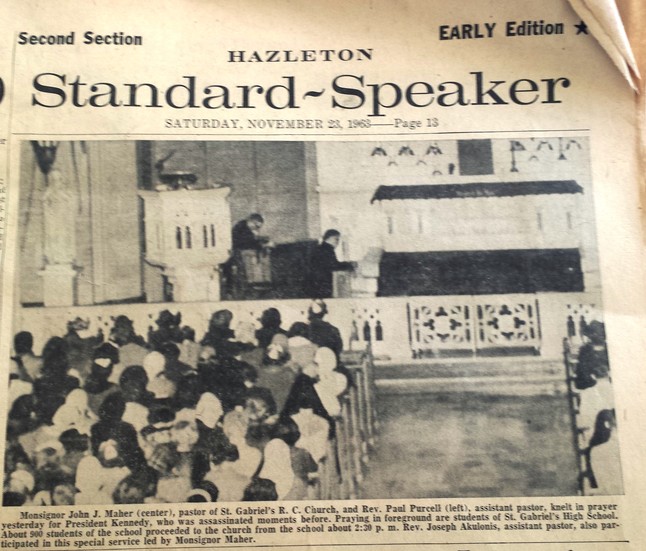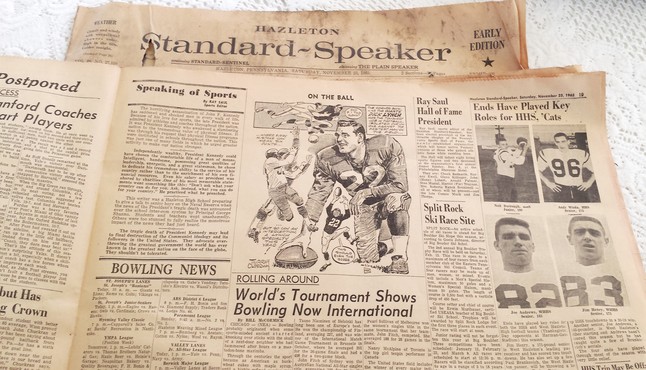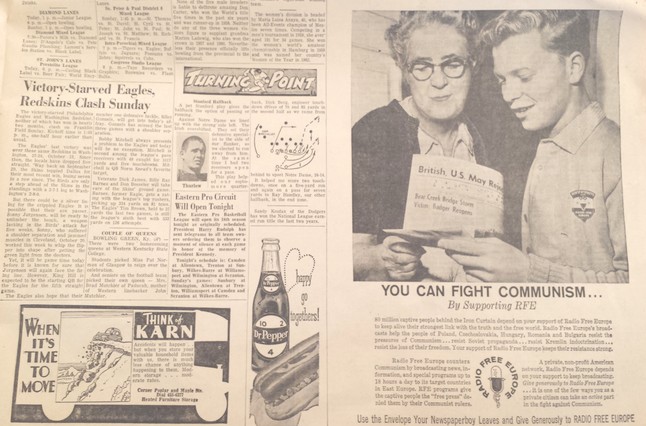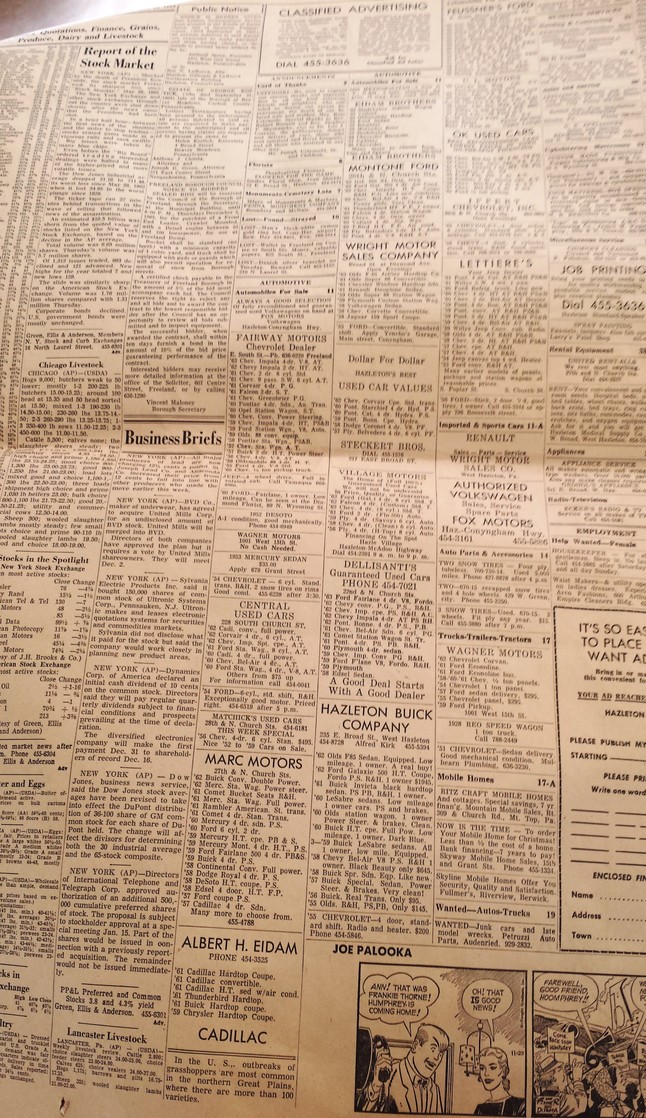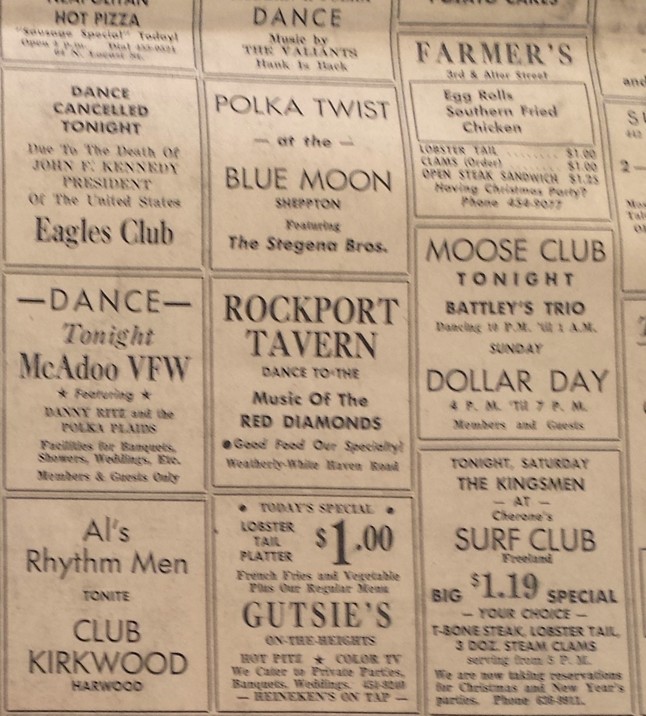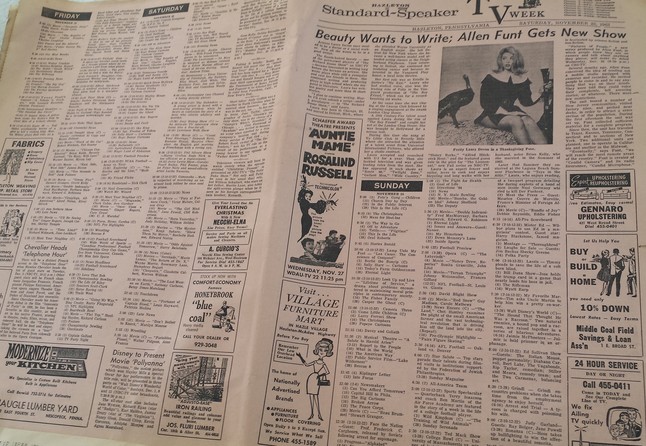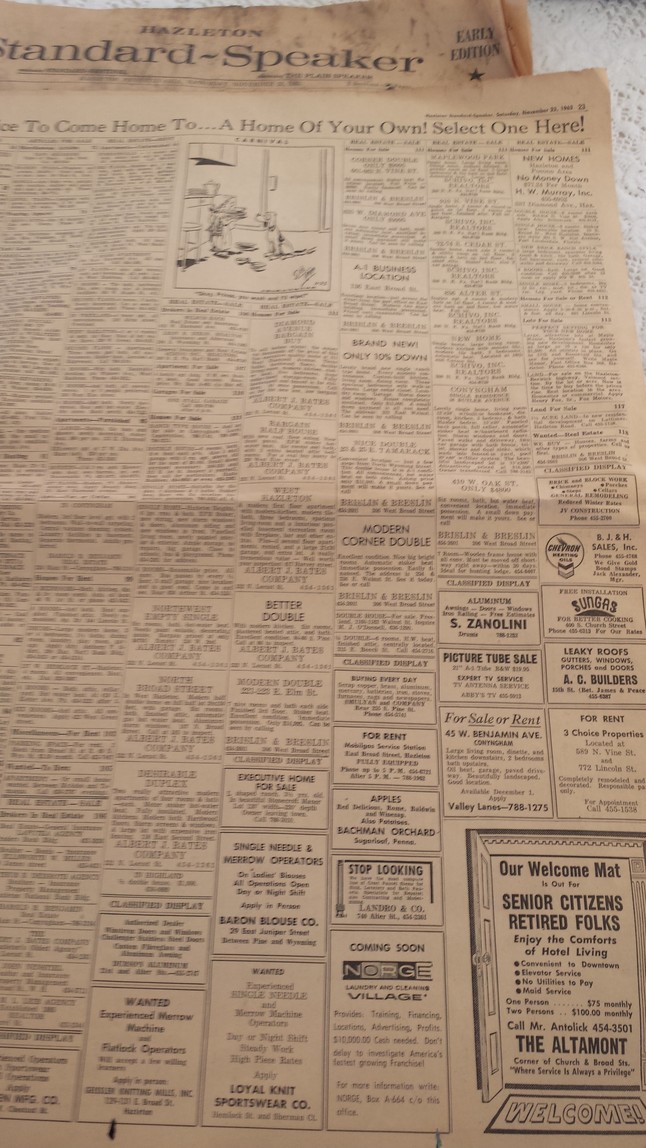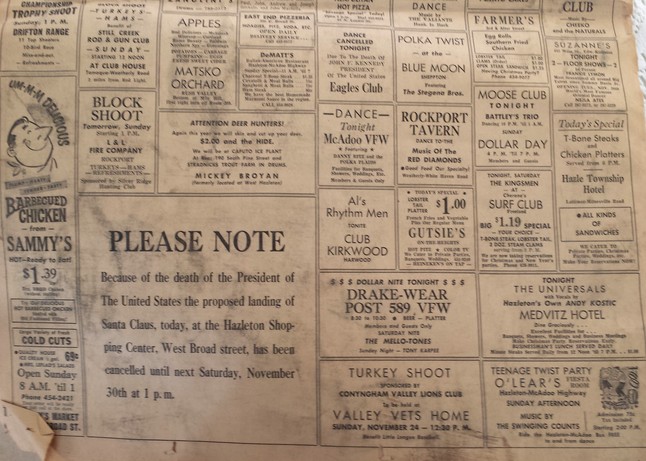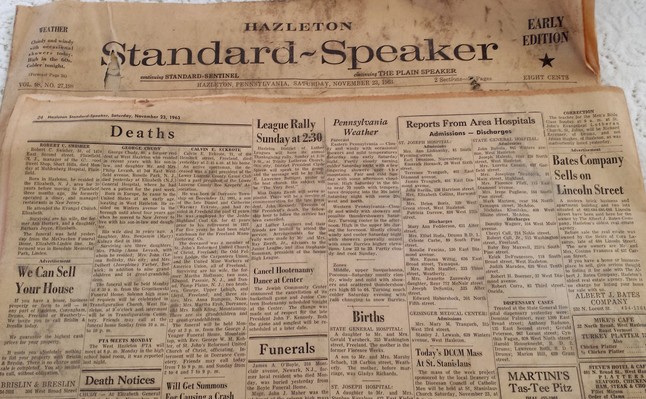 This year's Thanksgiving is even more special because it coincides with Hanukkah.

This is something quite unusual since it hasn't happened since 1888 and won't happen again for 79,000 years.

So, Happy Thanksgiving to all and Happy Hanukkah to those who celebrate it!
"Thanks from Everywhere" is really cool - if you can, take a moment to remember and thank our troops -
click on " USO " to show them you care.
A friend of mine wrote this, and I couldn't have said it better myself: Take time to live in gratitude, especially this Thanksgiving and coming into the holiday season. Be grateful for your life and the people who are in it. Life can turn on a dime. We need to take a moment and reflect how it has done so in the past, realizing that embracing the moment is essential to living in the now. Everything is as it should be. Leave worry and regret in the past. Look at your surroundings and be astounded at the miracles that are all around. Blessings to you all, all my love, ~Christina Leeson (and Karen M.)